"We'd race for our true love, and easily win it. In and old spinach can with a mast stuck in it." -Jimmy Buffet
So over the past few weeks I have been on this tear of activity that has led me to run over thirteen miles this last week. It doesn't seem like much on paper, I have friends that routinely run 13 miles in a clip, but they are not six feet tall and over three hundred pounds. So this seems like a big deal to me.
I have come up three different courses that spiral through downtown Providence in lengths of 2.8, 3.6 and 4.6 miles. I run every other day (so the even numbered days and then in September it will be the even numbered days because of the whole thirty-one day month thing. I am not particularly fast, but I am committed and I have woken up twice now-against my will-and gone out for my run.
My driving force for this two fold:
First and foremost my step-dad and I are going to be attempting to climb and summit Mt. Rainier next summer. This would be a monumental experience and my biggest fear is that I get started and can't pull my lumbering frame up the mountain. So the easiest solution is to lose the lumbering frame.
The other mitigating factor is a new hobby. I started taking sailing lessons at the
Communtiy Boating Center
in Providence. I highly recommend it. First the instructors are competent and willing to help out, if you are willing to listen. I have picked up a couple of books about the technicals of sailing--one is
Learning to Sail
by the instructor at the Annapolis Sailing School, which is like a how to not die in a dinghy book; and the other is called
The Why Book of Sailing
, which has some really interesting practical physics information about sailing. But most importantly I am spending time on the water.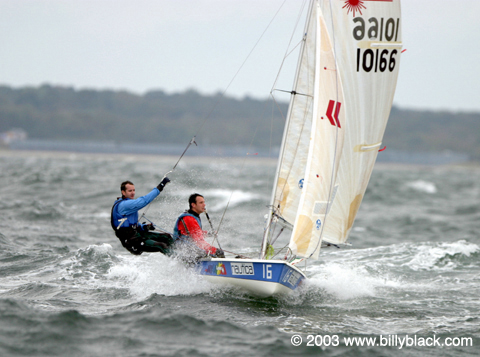 The CBC has a fleet of Hunter 140's, good for beginners, easy to rig, but I learned this weekend, a lot like sailing a patio. Somebody, and I hope the live long happy lives, donated a Laser II (pictured to the right) and I got to go out and sail a bit in it this weekend. HOLY COW what a difference. The thought of taking out a Hunter now seems so anti-climactic. I can't wait to get out and do some more sailing on that boat. Which brings me to the whole point of this post.
Completely by random I have found my favorite, non-family, blog on the web. I was searching for websites that would help me tailor a work out to something that would benefit me if I was going to try and make a run at sailing in some races next summer when I stumbled onto
Proper Course
.
The site is run by the The Tillerman and he lives, as the crow flies, fifteen or sixteen miles from me. It is so nice to read his take on sailing and to have it make some sort of sense. I have been diligently dodging responsibility as I post through his back blogs, all the while looking out the window of office desk and watching the flag at the top federal building; right now it stands straight, which bodes well for my patio sailing class at 5:30.
Thanks, Tillerman, for the great blog.
Tomorrow my running goal is to bring my time down to a ten minute mile. That would be shaving two minutes off my average over the last two weeks. Wish me luck.